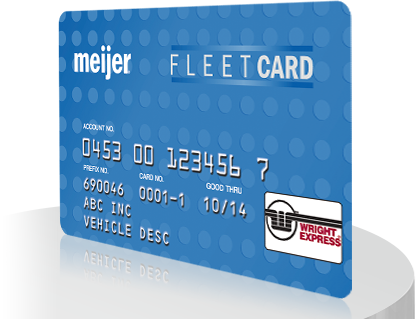 Save money.

Save up to 5¢ per gallon of Meijer fuel.
Earn monthly rebates from the first gallon; the more fuel you buy at Meijer, the more you save.

Save time.

We'll make your accountant's job easier with simple month-to-date and year-to-date reporting.

Get help fast.

Call our local service team 24 hours a day, 7 days a week, 365 days a year, at 1-866-558-5981. For more information, visit meijer.applyfleet.com

Monitor purchases.

Decide where your drivers can stop, how much they can spend and what they can buy.
Quickly see where and when every purchase is made by each driver.

Manage easily.

Easily create and see all of your monthly transactions.
Set up controls and manage cards as a group or individually.

Make a pit stop anywhere.

Over 195 Meijer fuel locations in MI, OH, IN, IL, KY and WI.
The Meijer/WEX card is accepted at most fuel and service locations nationwide.