return to main pharmacy page
Meijer Pharmacy
No appointment necessary
Accepting most major insurance plans (view list)
Visit pharmacy for more details

influenza

give flu the slip

The single best way to prevent the flu is to get a flu vaccine. Guard your family against the unpredictable flu virus this season by getting immunized with a 2013-2014 all-in-one flu vaccine at your local Meijer Pharmacy.

Fight the flu.
Be informed.

beat

pneumonia

Pneumonia can be prevented. Reduce exposure by protecting loved ones with a flu vaccine this season at a Meijer Pharmacy, learn who's at risk for pneumonia and who should get the pneumococcal vaccine.

Play it safe and take simple steps today.

Courtesy of the CDC - Center for Disease Control and Prevention.

Who Should Get Vaccinated?

Everyone 6 months and older should get a flu vaccine this season. It's especially important that certain people get vaccinated People who are at high risk of developing serious complications like pneumonia if they get sick with the flu. This includes:

People with acute medical conditions; including asthma, diabetes, and chronic lung disease.
Pregnant women.
People 65 years and older.
People who live with or care for others who are high risk.




What are the 2013-2014 Vaccine Components?

Per the recommendation of the World Health Organization, the 2013-2014 seasonal influenza vaccine contains the following vaccine viruses:

an A/California/7/2009 (H1N1)pdm09-like virus
an A/Victoria/361/2011 (H3N2)-like virus
a B/Wisconsin/1/2010-like virus (from the B/Yamagata lineage of viruses).

While the H1N1 virus used to make the 2013-2014 flu vaccine is the same virus as the 2011-2012 vaccine, the recommended influenza H3N2 and B vaccine viruses are different from those in the 2011-2012 vaccine.



When Should I Get Vaccinated?

CDC recommends that people get vaccinated against influenza as soon as 2013-2014 flu season vaccine becomes available in their community; even as early as August. Influenza seasons are unpredictable, and can begin as early as October. It takes about two weeks after vaccination for antibodies to develop in the body and provide protection against the flu. CDC Resources: 2013-2014 Flu Season Overview
"Take 3" Actions to Fight the Flu
Good Health Habits for Flu Prevention
Vaccine Information Statements
Vaccine Safety
What to Do If you get Sick
Treatment (Antiviral Drugs)
Discover the Vaccination You Need (Adult + Kids)
Required Meijer Pharmacy Paperwork: Immunization Questionnaire and Consent
Physician Vaccination Notification Form (fax)

Courtesy of the CDC - Center for Disease Control and Prevention.

About Pneumonia

Pneumonia is an infection of the lungs that is usually caused by bacteria or viruses. Globally, pneumonia causes more deaths than any other infectious disease. However, it can often be prevented with vaccines, such as the pneumococcal vaccine for those at risk (see CDC pneumococcal vaccination info below). Pneumonia can usually be treated with antibiotics or antiviral drugs.

Who Should Get Vaccinated with the Pneumococcal Vaccine?

All adults 65 years of age and older.
Anyone 2 through 64 years of age who has a long-term health problem such as: heart disease, lung disease, sickle cell disease, diabetes, alcoholism, cirrhosis, leaks of cerebrospinal fluid or cochlear implant.
Anyone 2 through 64 years of age who has a disease or condition that lowers the body's resistance to infection, such as: Hodgkin's disease; lymphoma or leukemia; kidney failure; multiple myeloma; nephrotic syndrome; HIV infection or AIDS; damaged spleen, or no spleen; organ transplant.
Anyone 2 through 64 years of age who is taking a drug or treatment that lowers the body's resistance to infection, such as: long-term steroids, certain cancer drugs, radiation therapy.
Any adult 19 through 64 years of age who is a smoker or has asthma.
Residents of nursing homes or long-term care facilities.

The pneumococcal vaccine may be less effective for some people, especially those with lower resistance to infection. But these people should still be vaccinated, because they are more likely to have serious complications if they get pneumococcal disease. Children who often get ear infections, sinus infections, or other upper respiratory diseases, but who are otherwise healthy, do not need to get the pneumococcal vaccination because it is not effective against those conditions.

CDC Pneumonia Information: Required Paperwork: Physician Vaccination Notification: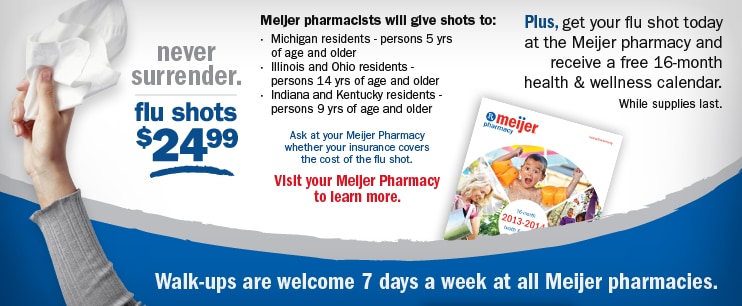 list of top insurance plans we accept for flu shots:
Aetna
BlueCare Network
BlueCross BlueShield Federal Employees
BlueCross BlueShield of Illinois
BlueCross BlueShield of Michigan
Cigna
CVS/Caremark
Express Scripts/Medco
Humana
Medicare Parts B & D
OptumRx
Priority Health
Tricare/Dept of Defense
United Healthcare
And many more