delicious mini biscuits that are a nutritious and convenient breakfast choice. Each serving provides four hours of nutritious steady energy, and is individually wrapped for on-the-go convenience.
Enjoy belVita Breakfast Bites with a serving of fruit and low-fat or fat-free dairy, such as Greek yogurt, for a balanced breakfast.

Start a new routine

Have your kids get backpacks and lunches ready the night before

Set a bedtime alarm

Most people hit snooze because they don't get enough sleep.

offer rewards

Offer end-of-the-week rewards if everyone sticks to the routine.

wake up on time

Get your kids their own alarm clocks.

Keep belVita in the cupboard to enjoy as part of a balanced breakfast. Grab fruit, yogurt, belVita, and get going!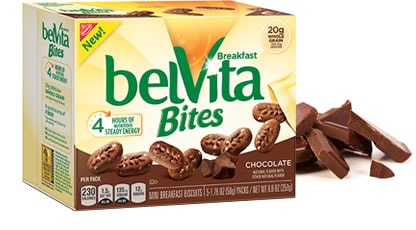 belVita's Chocolate Breakfast Bites are not only a tasty morning treat, they're also a nutritious way to start your day. Made with natural ingredients like rolled oats, rye and barley, belVita found a way to sneak real chocolate into a wholesome breakfast.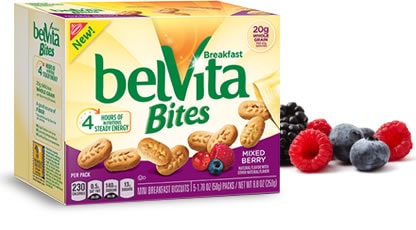 belVita's Mixed Berry Breakfast Bites are oh so delicious. Each satisfying bite is baked with wholesome ingredients like rolled oats and tasty real fruits, like blueberries and raspberries.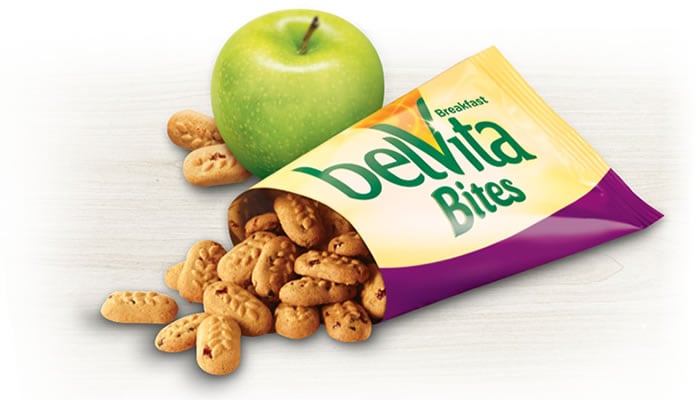 belVita Breakfast Bites are baked with high quality wholesome ingredients such as real fruit and provide you with 4 hours of nutritious steady energy when eaten as part of a complete breakfast. Each 50g serving (one pouch) includes:
4g of fiber*
20g of whole grain
No high fructose corn syrup
No partially hydrogenated oil
No artificial colors, flavors, or sweeteners
*Contains 7-8g fat per serving, depending on flavor variety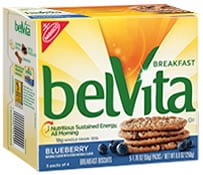 Golden Oat
Blueberry
Apple Cinnamon
Cinnamon Brown Sugar
Chocolate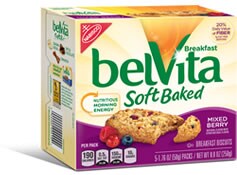 Mixed Berry
Oats & Chocolate
Banana Bread
Cinnamon