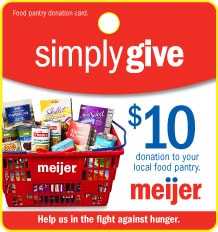 Store Food Pantry Donation Card
help us in the fight against hunger
Simply Give helps neighborhood food pantries stock their shelves to feed local families who are struggling. Food pantries continue to see new faces, as families work to balance daily expenses. Our continued giving is vital to the success of local food pantries in this time of need. Your $10 donation will be turned into a Meijer gift card and given to a local food pantry.
In addition to your donation, Meijer will contribute $1 million to the 2013 Simply Give program to distribute among the many food pantries in our communities. Since 2008, Meijer and our customers together have donated an estimated 6 million dollars.
Purchase your $10 donation card from the Simply Give displays near the checkout, or give now online.
Thank you for partnering with us in the fight against hunger.
Give at Meijer stores
Beginning Sunday, November 3, in all Meijer stores you will find special Food Pantry Card displays. Simply purchase a Food Pantry Donation Card and help Meijer feed those in your community who need it the most.

A locally designated Meijer Food Pantry partner will be identified on the in-store display.

The program ends
Saturday, January 4, 2014.
What to Give
A typical contribution can purchase a portion of these Meijer Brand items most often needed by food pantries:
• Tomato Sauce
• Pancake Mix
• Whole Kernel Corn
• Peanut Butter
• Applesauce
• Syrup
• Green Beans
• Jelly
• Quick Oats
• Apple Juice
• Peas