Preparing seafood is as fast and easy as Choose, Season and Cook!



1

Choose

Choosing is simple —
just select your fish based on your taste
for texture and flavor. learn more

2

Season

Seasoning is simple — just choose yourfavorite spices. learn more

3

Cook

Cooking is simple —
just follow one
easy rule. learn more

1

Choose

Choosing is simple —
just select your fish based on your taste
for texture and flavor.

Texture
Flavor
Mild
Moderate
Full
Delicate, flaky
Cod
Haddock
Pollock
Lake Perch
Whitefish
Whiting
Delicate to medium firm
Tilapia
Walleye
Ocean Perch
Smelt
Trout
Firm,
steak-like
Catfish
Halibut
Snapper
Mahi Mahi
Salmon
Swordfish
Tuna

Print this Section

2

Season

Seasoning is simple — just choose yourfavorite spices.

Whether you're in the mood for Italian, Asian, Jerk or simple salt and pepper, there's no wrong way to season seafood. Don't know where to start?
Here are some suggestions:

Dry Seasonings

&

Rubs

Meijer Gold® Fish & Seafood Seasoning grinder

Marinades

&

Wet Cooking Sauces

Meijer Teriyaki or Lemon Pepper marinades, Meijer Salsa
or Meijer Barbecue Sauce

Compound Butters

To make compound butter, just whip your favorite herbs and spices into butter. Then, wrap in plastic wrap or parchment paper and chill until firm. Melt on top of your seafood, meat, and vegetables, or use as a spread.

Print this Section

3

Cook

Cooking is simple —
just follow one
easy rule.

The general rule for cooking seafood is to bake, broil, sauté or grill at 450 degrees for 10 minutes per inch of thickness. This may vary for frying, which will only take about 1-2 minutes per inch of thickness, or steaming, which will take about an extra 2-3 minutes per inch of thickness.

Here are some additional cooking tips:

Measure the fish at the thickest point. (You can fold thinner portions underneath to create the same thickness as the thickest portion.)
Seafood cooks quickly and appliances vary, so cooking times may need to be adjusted.
Firmer and denser fish (such as tuna and swordfish) might require about an extra 4-8 minutes per inch of thickness if you prefer them cooked through.
You'll know your fish is done when it turns from translucent (glassy looking) to opaque (a solid color) and just begins to flake. Make sure you pull it off the heat then, or it may dry out.
Seafood cooks nicely from a frozen state, so you don't have to take the time to thaw. Just rinse the frozen fish, dry with a paper towel, and brush with oil before seasoning. Then, add about 15 minutes per inch of thickness to your cook time.

Print this Section
MealBox Recipe Collections
Make cooking seafood simple with easy recipes from Mealbox. Whether you are planning a casual family dinner or a get together with friends, discover easy, tasty recipes that will please any palate.
View our collection of over 200 seafood recipes
View

Recipes appear in widget.
Or print this pdf collection of 10 soon to be favorites including:
Catfish with Lemon Pepper

Pan-Seared Trout with Herbs

Blackened Tilapia Filets

Swordfish Piccata

Brown Sugar and Ginger
Glazed Salmon

and more!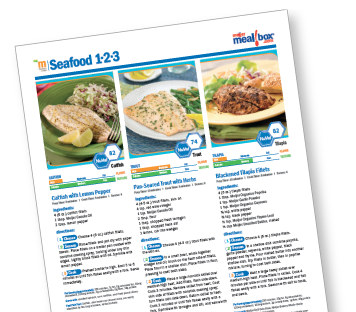 Seafood is the ultimate healthy food. Here's the score!

72
Avg.
score
of fish!
NuVal™ is a scoring system that helps you see the nutritional value of food at a glance. It compares foods on a scale of 1 to 100. The higher the score, the higher the nutrition.
Nutrients such as protein and omega 3 fatty acids, both found in fish, raise the score. Omega-3 fatty acids are found in the highest concentration in oily fish such as salmon, trout and herring. Fish is also low in saturated fat, which helps to raise the score.
The average NuVal score of fish is 72, and Atlantic Salmon has an impressive score of 87!
Meijer brings you quality sustainable seafood.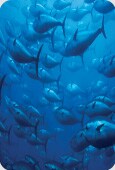 At Meijer, our focus is to work towards providing our customers with the freshest, highest-quality seafood.
That includes making sure the seafood products we offer are caught and farmed in the most responsible and sustainable way.
To maintain our high standards for both farmed and wildcaught seafood, Meijer partners with the Global Aquaculture Alliance (GAA) and the Sustainable Fisheries Partnership. This allows us to certify that our seafood suppliers operate in a way that is beneficial to the industry and the environment.