Medicare Part B
Diabetes Changes
Prescription
Transfers
Free Antibiotics
& Pre-Natal Vitamins
Health
Screenings

FSA

Privacy
Important Medicare Part B Changes for Diabetics

Medicare recently made changes that could affect mail-order purchases of diabetes test strips and glucometers. Your Meijer Pharmacy is ready to help with all your diabetes testing needs.
We continue to accept Medicare Part B for diabetes testing supplies.
We stock all major brands of diabetes test strips and glucometers.
We'll work with you and your doctor to complete the necessary paperwork.
Find the Nearest Meijer Pharmacy
Meijer makes managing your diabetes easy and affordable.
Nearly 24 million Americans live with diabetes. If you've been diagnosed with the disease, Meijer is dedicated to helping you on your daily journey of adopting a healthier lifestyle and disease management. See the below resources available and visit your Meijer pharmacist to talk about ways to monitor your blood sugar and keep the disease in check.
One Stop for Your Diabetes Needs, featuring:
Diabetes Care Pharmacists who help with your medications, testing and log books, and offer tips and tools to achieve your goals.
Free Metformin Immediate Release as prescribed by your doctor, up to a 30 day supply per fill with refills free of charge.
Convenient Glucose Testing and other health screenings available at your pharmacy.
Diabetes Supply Section, where you can receive help on selecting and programming a new meter as well as expert advice on additional products.
NuVal Nutritional Scoring System shows nutrition at a glance. Compare overall nutritional value in one simple number 1-100. Pick up a Self Guided Tour in our pharmacy area and look for the NuVal scores on shelf tags.
Registered Dieticians who offer advice on diabetes-friendly foods and recipes and provide nutritional and exercise tips for leading healthy lifestyles. Visit our Healthy Living site for more information.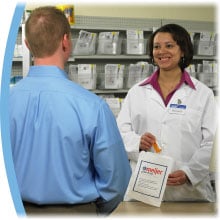 Need a new pharmacy? Switch to Meijer.
Switch to Meijer - we accept all major insurance plans, including:
Express Scripts
TRICARE
WellPoint
And many more
Switch now - Meijer makes it easy! Bring in your prescription bottle or prescription to the Meijer pharmacy and we'll do the rest.
get free antibiotics and pre-natal vitamins

Leading Antibiotics are now FREE at your Meijer Pharmacy—No Strings Attached!
"Rising health care costs are having a dramatic impact on families across the country, especially here in the Midwest. Our free antibiotic program is the next step Meijer is taking to lead the industry toward improving the health of our customers. It is all about delivering higher standards."
–Mark Murray, Meijer president
The program covers leading, oral generic antibiotics with a special focus on the prescriptions most often filled for children. The following are FREE with your doctor's prescription, regardless of insurance or co-pay:
•Amoxicillin
•Cephalexin
•SMZ-TMP
•Ciprofloxacin
•Ampicillin
•Penicillin VK

Prescription must be picked up at store in person. Maximum 14 day supply at normal oral dosages. Does not include extended release formulations. List may be subject to change. Not valid with any other offer.
What the Experts Say...
National health experts say that 40 percent of children who see a physician leave with a prescription. 'When appropriately prescribed, antibiotics are the leading tools to treat sick kids," said Dr. Herman Gray, fellow, American Academy of Pediatrics and president, Children's Hospital of Michigan.
"As a family-focused company, offering free pre-natal vitamins is just another way we can help the many families that make up our core customer base. Just as our free antibiotic program was designed to help our customers get healthy during these tough economic times, offering free pre-natal vitamins will help our customers stay healthy during a very important time in their lives."
--Nat Love, Vice President, Meijer Drugstore
The free pre-natal vitamin program launched on June 1, 2008 and features five leading brands of pre-natal vitamins. See a Meijer pharmacist for details.
It has been shown that pre-natal vitamins play an important role in healthy pregnancies and healthy babies. Through the years, these supplements have typically been prescribed for women who have become pregnant. However, many members of the medical community believe they also play an important role for women in the important months leading up to conception. Therefore, a large number of physicians now prescribe these vitamins for the months leading up to a patient's attempt to conceive.
Meijer's free pre-natal vitamin program comes on the heels of the company celebrating its milestone of filling two million free antibiotic prescriptions in April. The free antibiotic program, which launched in October 2006, has saved Meijer customers more than $33 million.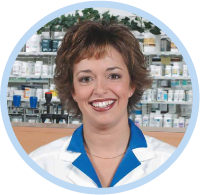 health screening clinics
Walk-in, no appointments needed
Available Monday–Friday, Pharmacy open – 4 pm
Cholesterol Testing


(Total Cholesterol, HDL, LDL and Triglycerides)

$30
Hemoglobin A1C Testing
$30
Available anytime during Pharmacy hours. Results in 15 minutes
| | |
| --- | --- |
| Blood Glucose Testing | $4 |
| Blood Pressure Testing | free |
| BMI Testing | free |
| Diabetes Risk Assessment | free |
See pharmacist for details.
getting a handle on HSAs / FSAs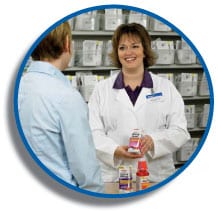 As of January 1, 2011, the conditions for HSAs and FSAs have changed. Talk to your employer or visit the link below to learn more about those changes and how they affect you.
notice of privacy practices

MEIJER PHARMACY NOTICE OF PRIVACY PRACTICES
THIS NOTICE DESCRIBES HOW MEDICAL INFORMATION ABOUT YOU MAY BE USED AND DISCLOSED AND HOW YOU CAN GET ACCESS TO THIS INFORMATION.
PLEASE REVIEW IT CAREFULLY
This Notice is effective September 23, 2013
Meijer Pharmacy is required by law to maintain the privacy of protected health information (your pharmacy information), and to provide you with this notice of our legal duties and privacy practices. We are required to abide by the terms of this notice.
We reserve the right to change the terms of this notice and to make the new notice effective for all protected health information we maintain. A revised notice will be posted at the pharmacy, on the pharmacy web site, and will be available upon request.
USES AND DISCLOSURES WE ARE PERMITTED TO MAKE FOR TREATMENT, PAYMENT, AND HEALTH CARE OPERATIONS
Treatment means the provision, coordination, or management of health care and related services by one or more health care providers. Meijer pharmacy is a health care provider. Examples of treatment include:
Dispensing prescription medications to you.
Coordination or management of your health care.
Consultation between health care providers regarding you, such as a pharmacist consulting with a prescriber regarding your prescription(s).
Providing clinical services to you including, but not limited to, immunizations, blood glucose testing, or other health risk assessments.
Contacting you to follow-up on the care you have received from us.
Communicating with you about Meijer Disease State Management programs, appointment reminders, refill reminders, adherence programs, treatment alternatives, generic medications and other information pertaining to your prescribed medications or pharmacy care.
Disclosure to another health care provider involved in your treatment.
Informing you about health care products and services that we provide and/or general health or government health programs that may be of interest to you.
Program Registrations: For medications subject to a Risk Evaluation and Mitigation Strategy (REMS) program, you may be required to register with an outside company and/or submit diagnostic test results prior to receiving your prescription. Once you have enrolled or submitted your test results we may have to disclose information about you, your enrollment, or your test results to those outside companies to continue dispensing the REMS medication to you.
Payment means the activities undertaken by Meijer pharmacy to obtain reimbursement for the provision of health care to you. Examples of payment include:
Submitting a prescription claim to your insurance provider to determine your eligibility, your co-pay or co-insurance amount, and to request payment for the pharmacy service we provided to you.
Payment also may include collections activities, utilization review activities including precertification or prior authorization for pharmacy services.
Disclosure to another covered entity or health care provider for the payment activities of the entity that receives the information.
Health Care Operations means other activities that are related to Meijer pharmacy's provision of health care to you. Examples of health care operations include:
Conducting quality assessment and improvement activities, including outcomes evaluations and development of clinical guidelines, patient safety activities, activities that improve health or reduce health care costs, protocol developments, case management and care coordination, and contacting other health care providers or you regarding treatment alternatives.
Reviewing competence or qualifications, evaluating performance, and training pharmacy team members.
Legal services, auditing functions, fraud waste and abuse detection, and compliance programs.
Business planning.
Business management including administrative activities; customer service; resolution of grievances; and the sale, transfer, merger or consolidation of a pharmacy unit.
Creating de-identified information or a limited data set.
Preparation of prescriptions by a central fill pharmacy owned and operated by Meijer.
In limited circumstances, disclosure to another covered entity for the health care operations of the entity that receives the information.
Describing health-related products or services that we provide.
USES AND DISCLOSURES WE ARE PERMITTED TO MAKE, OR ARE REQUIRED BY LAW TO MAKE, WITHOUT YOUR WRITTEN AUTHORIZATION
Department of Health and Human Services: We are required by law to release specific information to the Secretary of the Department of Health and Human Services upon receiving an investigative or compliance request.
Business associates: When we contract with a vendor (called a business associate) to perform services, we may disclose your information to our business associate so that they can perform the job we have asked them to perform. Business Associates are required by law and contractual agreement to appropriately safeguard your information.
Your Family and Friends: The pharmacy, using professional judgment, may disclose your information to friends or family involved in your health care or payment for your health care and may allow a person involved in your health care or payment for your health care to pick up your prescriptions. We may use or disclose your information to notify or assist in notifying a family member, personal representative, or another person responsible for your care, about your location and general condition.
Fundraising: We may use limited information for the purpose of raising funds following certain requirements. You will be given the option to opt-out of future fundraising activities.
Public Health Activities: Meijer may release your information to a public health authority authorized by law for the purpose of:
Preventing or controlling disease, injury or disability; reporting vital events such as birth or death; or to conduct public health surveillance, investigations or interventions.
Reporting child abuse or neglect.
Reporting to the Food and Drug Administration (FDA) quality, safety or effectiveness information about FDA regulated products or activities including:

Adverse events, product defects, or product deviations
Tracking of FDA products
Product recalls, repairs, replacements or lookbacks
To conduct post marketing surveillance

Notification of communicable diseases for intervention or investigation
With written notice to you, Meijer may report to your employer information for an evaluation relating to medical surveillance of the workplace or to evaluate if you have a work related illness or injury.
With your consent, immunization reporting to your school when this information is required by state law for enrollment purposes.
Victims of abuse, neglect, or domestic violence: We may disclose PHI about you to a government authority, such as a social service or protective services agency, if we reasonably believe you are a victim of abuse, neglect, or domestic violence. We will only disclose this type of information to the extent required by law, if you agree to the disclosure, or if the disclosure is allowed by law and we believe it is necessary to prevent serious harm to you or someone else or the law enforcement or public official that is to receive the report represents that it is necessary and will not be used against you.
Health Oversight Activities: We may disclose information about you to a health oversight agency for activities authorized by law, including:
Audits; civil, administrative, or criminal investigations, proceedings, or actions; inspections; licensure or disciplinary actions.
Other activities necessary for oversight of the health care system, eligibility for government benefit programs, compliance with government regulatory program standards, and compliance with civil rights laws.
Judicial and administrative proceedings: If you are involved in a lawsuit or a dispute, we may disclose information about you in response to a court or administrative order. We may also disclose information about you in response to a subpoena, discovery request, or other lawful process by someone else involved in the dispute, but only if efforts have been made to tell you about the request or to obtain an order protecting the requested information.
Law enforcement: In limited circumstances, we may disclose your information for law enforcement purposes. These circumstances include:
Pursuant to legal process such as a court order, court-ordered warrant, subpoena, administrative request, or as otherwise required by law;
Law enforcement request for assistance in locating a suspect, fugitive, material witness, or missing person;
To law enforcement about a crime that has been committed on Meijer's premises.
Decedents: We may release your information to a coroner or medical examiner. This may be necessary, for example, to identify a deceased person or determine the cause of death. We may also disclose your information to funeral directors consistent with applicable law to carry out their duties. We may release your information to the person who has documented authority to act on your behalf or for your estate.
Organ or tissue procurement organizations: Consistent with applicable law, we may disclose your information to organ procurement organizations or other entities engaged in the procurement, banking, or transplantation of organs for the purpose of tissue donation and transplant.
Research: We may disclose your information to researchers when their research has been approved by an institutional review board or privacy board that has reviewed the research proposal and established protocols to ensure the privacy of your information and has altered or waived the requirement of your written authorization.
To advert a serious threat to health or safety: We may use and disclose PHI about you when necessary to prevent a serious and imminent threat to the health and safety of the public or a person, or if necessary for law enforcement authorities to identify or apprehend an individual.
For Government Functions: The pharmacy may release your information for:
Military and veterans: If you are a member of the armed forces, we may release information about you as required by military command authorities. We may also release information about foreign military personnel to the appropriate military authority.
National security and intelligence activities: We may release information about you to authorized federal officials for intelligence, counterintelligence, and other national security activities authorized by law.
Protective services for the President and others: We may disclose information about you to authorized federal officials so they may provide protection to the President, other authorized persons or foreign heads of state or conduct special investigations.
Correctional institution: If you are or become an inmate of a correctional institution, we may disclose to the institution or its agents, information necessary for your health and the health and safety of others.
Worker's Compensation: We may disclose information about you to the extent authorized by and to the extent necessary to comply with laws relating to worker's compensation or other similar programs established by law.
Required By Law: The pharmacy will use or disclose your information as otherwise required by applicable law.
Breach: We will notify you if your nformation is compromised according to applicable laws.
Authorizations Required:
The Pharmacy will obtain your written authorization before using or disclosing your information for purposes other than those provided for above (or as otherwise permitted or required by law). You may revoke the authorization in writing at any time. Upon receipt of the written revocation, we will stop using or disclosing your information for that purpose, except to the extent that we have already taken action in reliance on the authorization.
An authorization is required for:
Psychotherapy Notes.
Marketing. Example: Prior to voluntary participation in Meijer marketing programs, you will be required to sign an authorization.
Sale of Information that is not otherwise permitted or required by law.
Your Patient Rights
Meijer has designated a Privacy Specialist to answer questions regarding our privacy practices, respond to information requests, and receive complaints. If you believe your privacy rights have been violated, you may file a complaint with the Privacy Specialist or with the Secretary of Health and Human Services. There will be no retaliation for filing a complaint.
Meijer Privacy Specialist Phone:(1-800-543-3704) and select option 2
2929 Walker Avenue, N.W. Email: Privacyspecialist@meijer.com
Grand Rapids, MI 49544
All communications/requests listed below must be made in writing and submitted to the address above. For your convenience, request forms are available at the pharmacy, but are not required.
Restrictions: You have the right to request restrictions on how Meijer Pharmacy uses or discloses your pharmacy information. We are not required to agree to most restrictions. Your request must be submitted in writing. We will agree to a restriction not to bill your health insurance if your claim is paid in full at the time of purchase and we are not required by law to submit the claim to your health insurance. Meijer must receive your written request prior to submitting the claim to your health insurance in the ordinary course of business.
Confidential Communications: You may request that we contact you about pharmacy claims by an alternate means. This may include an alternate address or post office box or at an alternate phone number. Your request must be submitted in writing and state how or when you would like to be contacted. We will accommodate all reasonable requests.
Inspect and receive a copy of your information. You have the right to access and copy information about you held in a designated record set for as long as Meijer Pharmacy maintains the information. You may verbally request and receive a free printed Medical Expense statement containing a list of recent prescriptions and their costs at Meijer Pharmacy or you may login to Meijer.com/pharmacy with a userid and password to access your recent prescriptions. The Medical Expense statement meets most patients' needs.
For access to and copies of information beyond the Medical Expense statement, you must submit a request in writing. We may charge a fee for the costs of labor, mailing, supplies, and for preparing an affidavit if requested. You may request the copy be prepared in a specific format and be delivered in a hard copy report or on electronic media such as a CD or thumb-drive. You may direct in writing that Meijer send your information to a recipient other than yourself.
We may deny your request to inspect and copy in certain limited circumstances. If you are denied access to your information, you may request that the denial be reviewed.
Amendment. You may request that the pharmacy amend your information if you feel that your information is incomplete or incorrect. Contact information may be amended at the pharmacy with a verbal request. Amendments to your prescription information must be submitted in writing. In addition, you must include a reason that supports your request. In certain cases, we may deny your request for amendment. If we deny your request for amendment, you have the right to file a statement of disagreement with the decision and we may give you a rebuttal to your statement.
Accounting of Disclosures. You have the right to receive an accounting of the disclosures of your information that we have made for most purposes other than treatment, payment, or health care operations. The accounting will exclude disclosures we have made directly to you, disclosures to friends or family members involved in your care, and disclosures for notification purposes. The right to receive an accounting is subject to certain other exceptions, restrictions, and limitations. Your request must specify the time period, but may not be longer than six years. The first accounting you request within a 12 month period will be provided free of charge, but you may be charged for the cost of providing additional accountings. We will notify you of the cost involved and you may choose to withdraw or modify your request at that time.
Copy of this Notice. You may request a copy of this notice at any time. Even if you have agreed to receive this notice electronically, you are still entitled to a paper copy. To obtain a paper copy, you may request one in person at any Meijer Pharmacy or by contacting the Privacy Specialist.

Log in to your Meijer Pharmacy Online Account
Not a Meijer Pharmacy member?
---
Find Your Pharmacy
---
FDA methods of disposing of unused medicines
If you need to update your Patient Profile, please contact your local pharmacy.

If the pharmacy is closed and you have an emergency, please call your doctor or dial 911.